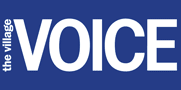 The Village Voice, NYC
March 5, 2008
By: Jim Macnie
Jason Rigby
The young saxophonist's Translucent Space gave jitters a
good name. The antsy music had enough grace to assuage
its attack. That's a best of both worlds deal. This quintet out-
ing will show us the kind of ideas he can string together on
the stand. If "Turquoise Turkish" is any indication, they'll be
no problem.
Cornelia Street Cafe, 29 Cornelia, 212-989-9319. 8pm.