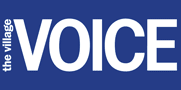 The Village Voice, NYC
December 30, 2006
By: Jim Macnie
Jason Rigby
"Diverse program" is sometimes a euphamism
for "hodge-podge," but the young reed player's
Translucent Space accounts for all its esthetic
zig-zags. Allusions to electric jazz and classical
motifs snuggle next to free-bop jaunts and hard-
driving swing. Rigby plays as it lays, and does
so with elan.
Cornelia Street Cafe, 29 Cornelia, 212-989-9319. 8pm.